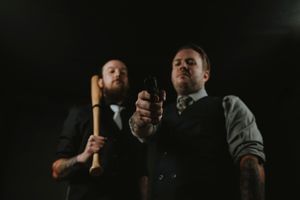 Forged in the darkness of a personal health crisis, Stone Cold Crows emerged from the shadows in 2021 when founding member Mitch Cuming reached out to former bandmate and long-time friend Bryson Emmons with a new idea for a band blending cinematic film score with hard rock music. The rest, as they say, is history. 
Based in Ottawa, Canada, SCC have drawn early comparisons to Alice Cooper and Metallica, but shake their heavy metal and hard rock roots up in a dark cocktail with the type of imagery and themes typically found in a Hollywood blockbuster film –  quite frankly, it's "Hans Zimmer on steroids".    
After building a buzz with their early singles "Before the Devil Knows We're Dead", "When the Thunder Comes" and "Ghost in a Bottle", Stone Cold Crows released their debut album "Original Sin, Pt. I" (the first part of a musical trilogy) on Oct 1st, 2021 to streaming platforms worldwide. The album was quickly met with critical acclaim and praise, garnering an average review score of 4.5/5 stars while receiving both airplay and positive press across the globe in places like New Zealand, the UK, USA, and of course, their native country Canada. 
Despite a global pandemic that continues to wreak havoc on the world (paralyzing the music industry in the process), the band continues to take their motto "dare to be different" to heart – and with Original Sin Pt. II already written, Stone Cold Crows' growing fanbase eagerly await to hear the next chapter in their story as the band prepares to take on new challenges in 2022. 
Want to go deeper? Click "Our Story" below to read an open letter about the unique circumstances of how Stone Cold Crows were born.