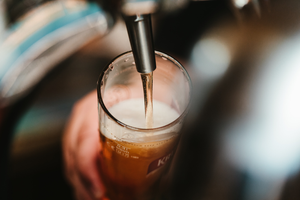 Beer & Cider
One of the world's oldest and widely consumed beverages in the world, beer is produced by brewing and fermenting various starches. Most modern beer is also brewed with hops - which adds bitterness and flavor while also acting as a natural preservative. 
While most commonly enjoyed on its own, that doesn't mean there aren't cocktails out there that don't use this fantastic beverage as the base. 
Cider, on the other hand, is similar to beer except that it is made from the fermented juices of fruit - most commonly apples (but today's craft alcohol scene offers many other options).
Like beer, it's commonly consumed on its own or over ice... but there are recipes out there that mix the crisp and fruity flavors of cider with a little extra kick from harder spirits. 
Beer & Cider Cocktail Recipes
"There are so many different variations and names for this drink depending on which brands are used and which region you're in... so let's just call it a Half & Half for sake of argument. The key principle behind this drink though is that it's a layer of Guinness served on top of hard cider.
Personally, Guinness is my favorite beer, and aside from drinking it by the gallon or using it in my cooking... I like to mix things up every now and then by sipping on one of these. 
The cascading layered effect is super cool to look at - but even better to drink."