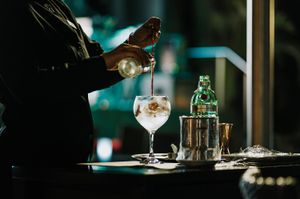 Gin
Gin has been around for centuries. There's no mistaking its association with the juniper berry, and while it was originally an herbal liquor distilled for medicinal purposes by monks and alchemists, it has since become a staple in the spirits industry. Because it is relatively easy and quick to make - it's also one of the cheapest spirits you can buy for a good quality product.
These days, there are seemingly endless combinations of herbs and botanicals - and each gin brand is unique (some of whose combinations are closely guarded secrets) and so I recommend you experiment with different types and brands until you find the gin profile that best suits your personal tastes. 
"Perhaps the most known version of the 'corpse reviver' Pre-Prohibition cocktails - a series of drinks invented essentially to 'cure hangovers' and rouse someone's spirits from the dead (hence the name). 
While I don't personally feel that drinking hard-alcohol first thing in the morning is the best method to deal with a night of hard-drinking... there's no denying that this cocktail a tart, cool, and stimulating refreshment. 
The absinthe rinse in the glass gives the drink a subtle anise flavor and aroma without overpowering (in a pinch, you can use another anise spirit such as Pernod for this purpose) and it really makes the drink what it is in my opinion.
Just remember, if you are going to drink this in the morning... it comes with a warning: 
'Four of these taken in swift succession will un-revive the corpse again.'"
"A classic cocktail named after the opera tenor Enrico Caruso - who rarely drank but had a penchant for these - this is definitely an after dinner (or performance) kind of digestif cocktail; it's refreshing and sweet. 
Essentially, this is a minty martini... so while most martinis are stirred, this drink benefits from shaking with ice to chill the liquid and really bring that 'cool mint' sensation to life.
Here's a fun scientific fact: the menthol oil contained in mint causes specific membrane cell receptors on the tongue (TRPM8) to open up their ion channels which they normally regulate - this sends a signal to the brain that tricks it into thinking your mouth is cold even when it's not!"
"When I think of classic gin cocktails, the Negroni is near the top of the list. It has all of the qualities of a classic: it uses few ingredients, it's simple, it's easy to remember, and it's damn good.
I was first introduced to these because I used to serve them to so many patrons who were very particular in what they drank - and this was what they wanted. 
If you've never tried Campari before be warned: it is probably more bitter than you are used to. But do not be swayed! It's an acquired taste, but once you have acquired it... the Negroni might be your new favorite concoction."