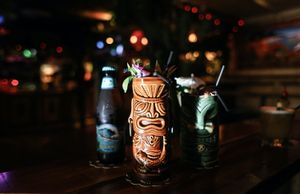 Rum
A Caribbean nectar made from fermented and distilled sugarcane, rum has long been a favorite of seafarers and land dwellers alike (though it is now made all over the world). There are many different styles of rum, and because some rums are aged in oak barrels for long periods of time - the price range and quality of rum can vary from exceedingly cheap to quite expensive.  
When making rum cocktails, the level of complexity is also quite varied - going from the extremely simple to extremely complex - some recipes featuring extensive combinations of different spices, fruit juices, and rum styles (tiki drinks for example). 
While some ingredients can be harder to find than others - there is a world of incomparable flavor in rum cocktails that awaits those who seek to understand this pirate's treasure. 
"This cocktail is summertime at the beach in a glass. Full of pineapple and banana flavors, you don't even notice the extra kick that the vodka provides.
Invented at the Beach Bar in Fort Lauderdale, Florida, I found this recipe in an old cocktail book on my shelf and since trying it, this drink has served me well in transporting me somewhere warm.
If you're feeling really fancy, add a few pineapple fronds to the garnish - as you can see, it really makes the drink quite pretty."
"My personal take on one of the most famous drinks to come out of Cuba (and believe me, there are a few rum cocktails you will immediately recognize on this list) is one where I like to muddle the mint gently in a shaker instead of the glass and use simple syrup in place of a muddled sugar cube (which is the traditional method).
Be careful not to bruise the mint - you only want to extract the aroma and flavor and not the bitter agents.
I also personally like to add lime wheels and additional mint staggered in between ice as I strain in the glass - I really like my Mojitos to be extra minty - but play around with your desired level of both sweetness and mint flavors until you find your preference." 
"Is there a more bastardized cocktail than the Mai Tai in the world? Probably not - but most people recognize Mai Tai imitators by their bright colors or dark rum floats on top... but the real deal (invented by rum guru Trader Vic) is in my opinion second to none.
Perhaps the two keys to making this drink the magical potion that it is are the addition of orgeat syrup (pronounced "OR-JYAH"... it's a sweet French almond syrup" and the bouquet of mint used as an aromatic garnish (despite mint not being an ingredient in the drink). 
Try this recipe out for yourself - but trust me when I say - once you make it the traditional way, you won't know how you drank one any other way."