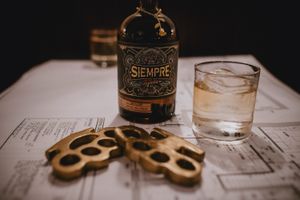 Tequila
The Mexican spirit with magical properties, tequila is distilled from the fermented juice of the blue agave plant (which is found all over the country).  Its unique flavor profile is unmistakable, and as such, it's commonly a featured spirit in some of the world's most popular and recognizable cocktails. 
Different types and brands of tequila vary in aging periods and distillation processes, but by regulation, only oak barrels can be used for aging - and as a result, tequila (like cognac and whiskey) is one of the world's most high-end spirits. When aged in oak barrels, tequila takes on a new range of complexities, aromas, and flavors from the wood that complements the spirit's already signature taste profile. 
The difference between cheap and high-quality tequila is as clear and night and day to your tastebuds - do yourself a favor and don't cheap out: get the good stuff, you won't regret it. 
"For this tequila take on a bourbon/rye whiskey classic (the Old Fashioned), you should use a quality Anejo tequila to let the oak accents complement the tequila's signature blend of earth, spice and agave notes. Substituting agave syrup for simple syrup further adds that agave flavor and the muddled orange peel adds just the right level of citrus to this slow sipper. 
Using a 3 oz measure really ensures a good tequila (like Siempre Anejo, which I used) takes the wheel and absolutely shines in this drink." 
"A drink that first appeared in the mid-1940s, this cocktail is truly a delight - and it's very easy to make. The original version of the drink's recipe calls for ginger ale - but given that ginger ale by today's standards had much more in common with ginger beer in those days (spiciness)... most modern recipes use ginger beer instead. Mine is no exception.
I shake the ingredients before topping up with ginger beer to blend the flavors better - but for a visual effect, leave out the cassis during the shake and then float it on the top of the drink at the end before sipping."
"Perhaps most people hear the word margarita and think immediately of big limey slushed drinks served with a salt rim. Well, this one is anything but... and in my opinion, it's much better.
The bright and sweet floral notes of St. Germain pair perfectly with the tart citrus profile of lime and when combined with a good tequila (don't use bar rail tequila when making cocktails that don't rely on a hefty amount of mixer) it's an absolute thing of beauty.
The salt rim on the glass is optional - I prefer mine without."