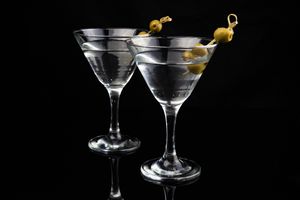 Vodka
Ahhh vodka... the colorless, odorless, and tasteless spirit. Vodka is best served as cold as the frigid winters of Russia and Poland - the countries with which it is most commonly associated (though it is made and distilled all over the globe).
Vodka's simplicity and mixability make it the most versatile spirit in the world of mixology - and its easy distillation process and cheap ingredients also mean you won't have to break the bank to get your hands on the good stuff.
The Vodka Martini might be one of the most iconic cocktails ever, but there are a host of classic drinks that use vodka as their spirit of choice (the Bloody Caesar, for example) or simply mix it with other flavors to give the drink an extra boozy kick. 
Additionally, because when chilled, it has absolutely zero flavor, many distillers have created flavored vodkas for extra taste - and it is not uncommon for bartenders or mixologists to infuse their own vodka with herbs and other botanicals.
The options with vodka, as they say, are limitless.
"If you like lemonade, kick it up a notch with this electrifyingly simple (and delicious) vodka highball.
Some recipes I've seen use lemonade or sour mix, but I prefer using lemon juice at a 1/1/1 ratio with the vodka and blue curacao (the ratio helps to keep that gorgeous blue color). 
Top with sprite - or for a less sugary option, substitute club soda." 
"If you're not used to sipping on Campari, this drink is going to come across as rather bitter at first - but trust me when I say, it's an acquired taste that once you have, it's a real treat.
This cocktail gets straight to the point - the Campari is clearly in the driver's seat in the flavor department (the drink gets its name from the famous Ferrari model after all), while the vodka adds an extra kick and the club soda adds a bit of fizz."
"A delightful combination of ingredients that results in a not too sweet, but not too bitter vodka fizz.
The egg white gives the cocktail a smooth and creamy texture. I also find that the bitterness of the Campari is neutralized a little bit by the citrus of the orange juice. The little added touch of apricot from the brandy helps form a nice compromise of flavors to give this drink a perfect balance."